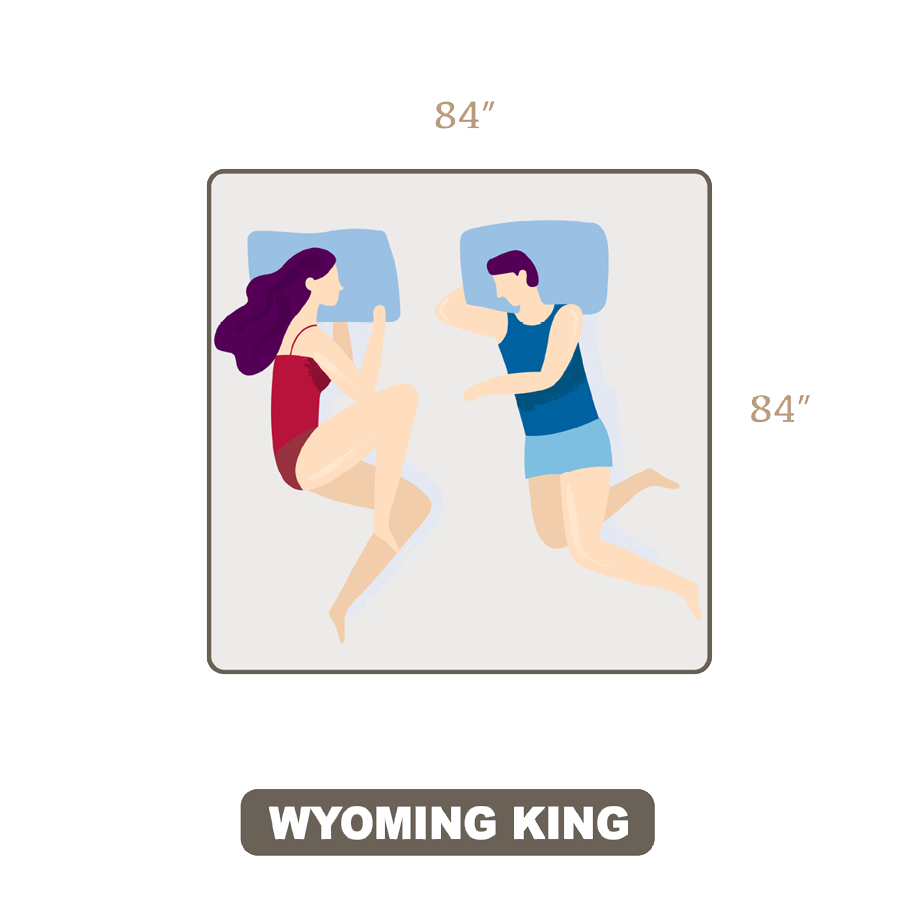 Step aside standard king beds; there's a new oversize mattress option in town. Getting its name from the Wild West state known for the Yellowstone National Park and cowboy culture, the Wyoming king bed offers extra space in the bed for any adults, children, and animals that want to hang out together.
Dimensions of a Wyoming King Bed
The Wyoming King bed has dimensions of 7' x 7' (or 84" x 84") and is a mid-range King mattress option.
One thing to note about this bed, which you can see when looking at the dimensions, is that it is a square-shaped bed, giving you just as much room from side-to-side as top-to-bottom. Compared to the standard bed sizes, which are more rectangular, the square shape of the Wyoming King is why it is easier for more people to fit on the bed comfortably.
Let's see how to Wyoming King compares to other King mattress types:
The King mattress has dimensions of 76" x 80", making the Wyoming King 4" longer and 10" wider. Those extra 10" are perfect for a child that wants to squeeze in with their parents during the night.
Wyoming King vs. Cal King
The Cal King mattress has dimensions of 72" x 84", making the Wyoming King the same length and 12" wider. Those extra 12" are perfect for extra leg room, a child or pet that wants to squeeze in with their parents during the night.
Wyoming King vs. Alaskan King
The Alaskan King is the largest oversized mattress option, with dimensions of 9' x 9', making it two feet longer and wider than the Wyoming King. This can make the Alaskan King a great option for those with large families who want a lot of mattress space, but this also comes with the challenge of needing a room big enough to accommodate this mattress.
For those looking for a larger mattress who do not have enough room for the Alaskan King, the Wyoming King is an excellent alternative that still provides extra space on the bed.
Who is a Wyoming King Bed For?
With a larger size than traditional King and California King beds, the Wyoming King bed can be exceptionally appealing for those in need of more space, such as:
Parents of Small Children
All parents have experienced a scared child wanting to crawl into their bed after a scary dream, and the Wyoming King provides the room necessary for this to occur comfortably.
Parents of children who start the night in their bed also appreciate the extra room provided, allowing everyone to get a good night's sleep.
The Wyoming King bed offers extra room in the bed, and while it is not as much as other oversize mattress options, it can be perfect for smaller pets looking to sleep in the bed.
The Wyoming King offers slightly more length than the King mattress, making it a good option for those whose feet hang off the bed.
The Best Room Size for a Wyoming King
Interested in the size offered by the Wyoming King but worried that it might not fit in your room?
It's recommended for those with a Wyoming King bed to have a bedroom that is at least 14' by 14' to ensure that you have enough room to walk around the bed and space for any other bedroom furniture.
Because of the greater size of the Wyoming King, it is often appealing to those with larger size rooms since they can help fill up space, making the room appear less empty while also providing more space when sleeping.
The Wyoming King is also easier to fit in a room than the larger mattress options, including the Vermont King and Alaskan King, since it takes up a smaller footprint, making it a better choice for many.
One thing to remember with the Wyoming King is that you should wait to set it up only once you are in the room where it will go. The mattress will arrive rolled up in a box that, once open, will expand to its full size. While the standard doorway is 80" tall, and the Wyoming King will fit if it is rotated the correct way, it can be challenging if there are any turns to navigate throughout the house. Instead, wait to open the package until it is in the room to make the process easier.
Ordering Sheets for Wyomig King Beds
Yet another component to purchasing a mattress is buying sheets to put on it. This may seem challenging since the Wyoming King bed is not an average mattress size, and its sheets are not available at typical department stores. Still, there are places to obtain these sheets; the options just might be more limited.
Despite this, those who opt for a Wyoming King bed find that the extra space and comfort offered by this larger mattress is worth the little extra challenge, or smaller options, in regard to sheets.
The Wyoming King: A Modest Oversized Mattress
The Wyoming King bed closely resembles the story of Goldilocks and the Three Bears. This mattress is not too small or too big, but just right. It has a larger footprint than the standard King bed but is not as large as the Alaskan King, making it a better fit for most size bedrooms.
Whether you're taller or a parent looking to have more room for your child, the Wyoming King can offer you the extra space you need for whatever you need it for. If you're interested in trying out the Wyoming King bed, check out Big Mattress Co. for this modest oversize mattress.